Learn how to create and add a wishlist of your charity to our website.
If you already have a list, you will find instructions on how to update your wishes .
How to add your organization to VOLOwishlist.com
Register by work email on VOLOwishlist.com and fill in the name of your organization as your name
Do not use the default wishlist and create a new wish list. Choose a list name and label according to this pattern.
Add the first few wishes to the wishlist
Write to us by e-mail jana (at) tomikup.cz how and to whom your list will help. Then we will work out the details together
If you have any questions, do not hesitate to write to us
A few tips for creating a list
Fill in specific links to gifts
We all know how difficult it is to come up with gifts for our loved ones. Our donors find it even harder because they are looking for gifts for people they don't know. Save them time and searching by adding a specific link to the gift. This trifle will have a significant effect on the number of gifts purchased .
Add a picture
The list of pictures looks more emotional. So add a picture, even if it's just illustrative. For small children, photos of hand-painted greeting cards look nice.
It's nice to say thank you
If the sender fills in the contact, he will certainly be pleased with at least a short e-mail or SMS confirming the delivery of the gift. Many people are otherwise afraid that the gift did not reach the recipient.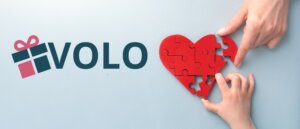 How to update a charity wishlist?
After logging in to VOLOwishlist.com or in the mobile application VOLO wishlist, delete all out-of-date wishes one by one.
Do not rewrite old wishes! If someone took the gift before, the reservation would continue after the name change.
Don't delete the entire wish list! It might seem easiest to delete the old wish list and create a new one. However, the new list will no longer appear in our birthday section.
Not sure what email you have on your VOLO account? Search for "VOLO" in your email client. If you do not find anything, write to us. We will be happy to help you 😉
Use VOLO all year round. Delete deleted wishes continuously and add new wishes at any time …
Do you like the gift registry app?Share it: