What should I wish
for my birthday?
Ideas for great gifts come anytime, not just when they are needed.
That's why there is the VOLO application, which tells your loved ones what you really want for your birthday.
You will find inspiration in the VOLO application what you wish for
Last-minute inspiration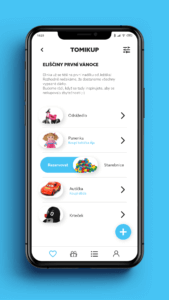 Birthdays are almost here, so the fastest solution will be when you are inspired by the recommendations of other VOLO users:
SEE WHAT THE OTHERS WANT
Click the button to add it to your wishlist

You can later add links to products from any other e-shops to the wishlist

Send a link to your wishlist to your family

Everyone will book a gift from the list, but you will not miss the surprise

You will receive great gifts
or write your wishes right here
and send the family a link:
Next time I'll know what I want for my birthday
Download the VOLO mobile app and write down everything you would like for your birthday here throughout the year.
In a year, a lot of wishes will accumulate on the wishlist. From cheap little things to really big wishes. You can then look forward to what you get from the list for your birthday or Christmas.
Thanks to the VOLO application, you will never go "What do I want for my birthday" again.
We save time with inventing gifts
We save money and nature by eliminating inappropriate gifts
Say goodbye to inappropriate gifts
I like do you like this site? tell about VOLO friends.