The VOLO application facilitates good deeds for children, seniors and others in need. Do a good deed online and easily:
How does it work?
Choose any gift from the list of charities
Click on "Book"
Buy a booked gift at any store
Send the gift to the address listed
Write the password «VOLO« and the name of the recipient (if indicated) on the package.
Optionally, you can enclose a greeting card with a contact email. Some organizations regret not knowing who to thank.
Employees of charities and children's homes prevent and open gifts during sorting, so if you want to wrap them nicely, do not use too much adhesive tape 🙂
Please do not buy gifts without a reservation . Otherwise, some children may receive two identical gifts while others do not receive one.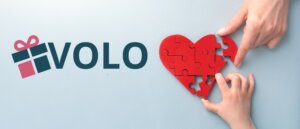 Do the gifts really get where they are?
In today's world, this question is not surprising. Anyway, you can easily verify that the address really matches the orphanage on the web.
We also check before the list of gifts is published.
Neither we nor any third party can make money on donations anymore. However, if in doubt, do not hesitate to write to us.
You can find the contact in the footer of the website.
We tried to make this service in such a way that it was as easy as possible to help and get help.
How else can I help?
Of course, it will help the most if you book and send one of the gifts. But the promotion of this site will also help us a lot.
Share it on social networks and tell non-participating children's homes about it.
Do you like our gift list app? Share VOLO to your friends: